The first day of school was a whirlwind.  Alarm clocks, excitement, nerves, pictures, SEVEN LUNCHES, questions, a few more pictures and GO!  When I dropped off the five biggest and headed home for round 2 with the littles, I gulped back tears.  This year they weren't tears of "will they be ok?"  This time I know they will.  This year I didn't really have tears over how much they've grown.  They have, but I love the stages they are in.  This time the tears were fear.
Maybe 7 is too many.
I have that fear mirrored right back at me nearly every time I tell anyone that we have five children in our home attending the same elementary school.  In 3rd, 2nd, 2nd, 1st, and 1st.  Or when I mention that I have two more at another school down the road.  Or when I get to the part about packing lunches, doing homework and bathing children taking all.the.time of all.the.days.   They say "I don't know HOW you do it?" And I want to scream right back "DON'T REMIND ME.  I don't know EITHER."  Can we do it? Will we do it?  Will there be a single day we remember everything, arrive unfrazzled, participate fully, learn something new.  One. Single. Day?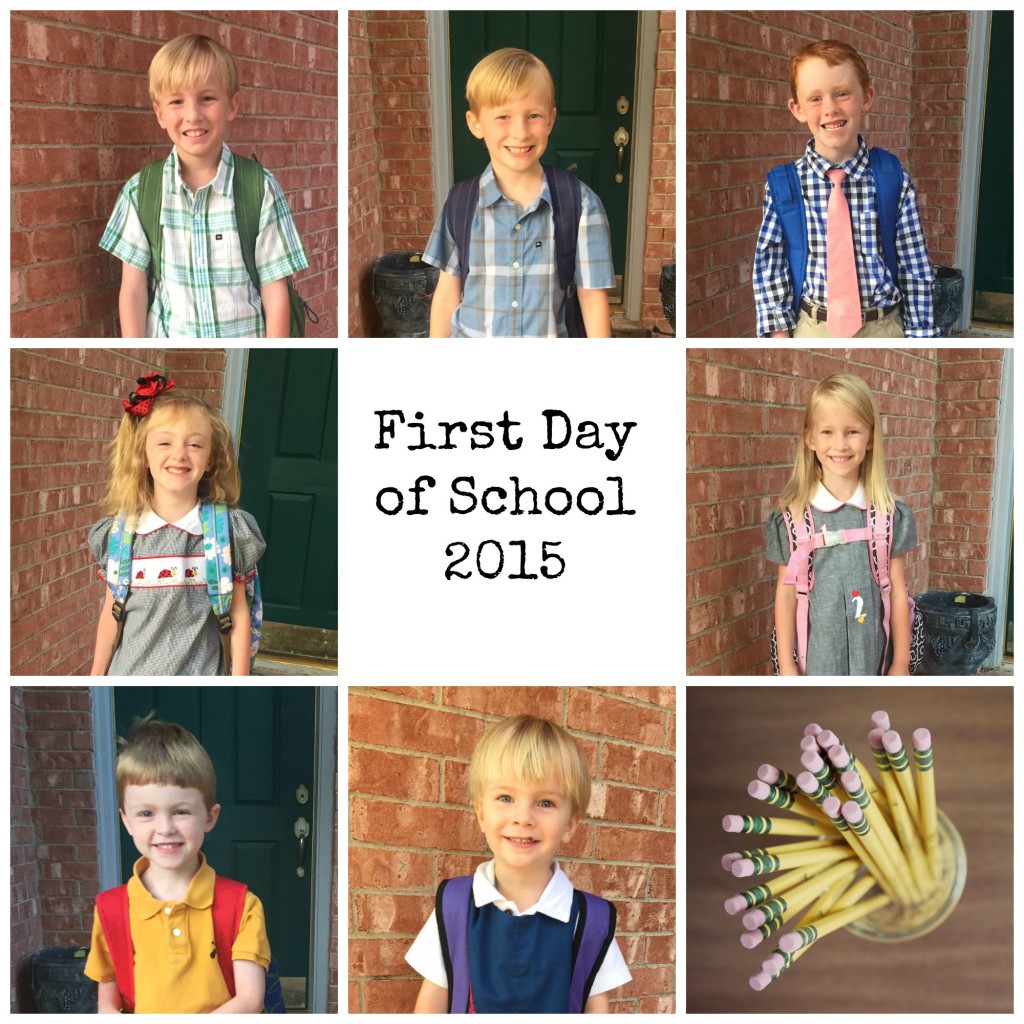 Maybe 7 is too many.
Oh, we will survive all right.  Because I can build systems for that.  I can write on my chalk board a mean routine.  I can build a menu plan. Grocery shop with the tribe in tow.  Have a killer bedtime plan.  And BAM.  Survival.
But can we thrive? Can I give these three bonus loves the sometimes exhausting attention they need?  Can I find joy in helping them, watching them grow and keep hoping for full restoration of their family?  Can I keep my cool through the inevitable notes home from teachers and calls from the principal?  With the natural chaos of our home, can I patiently answer their 203985723658593 questions about their family?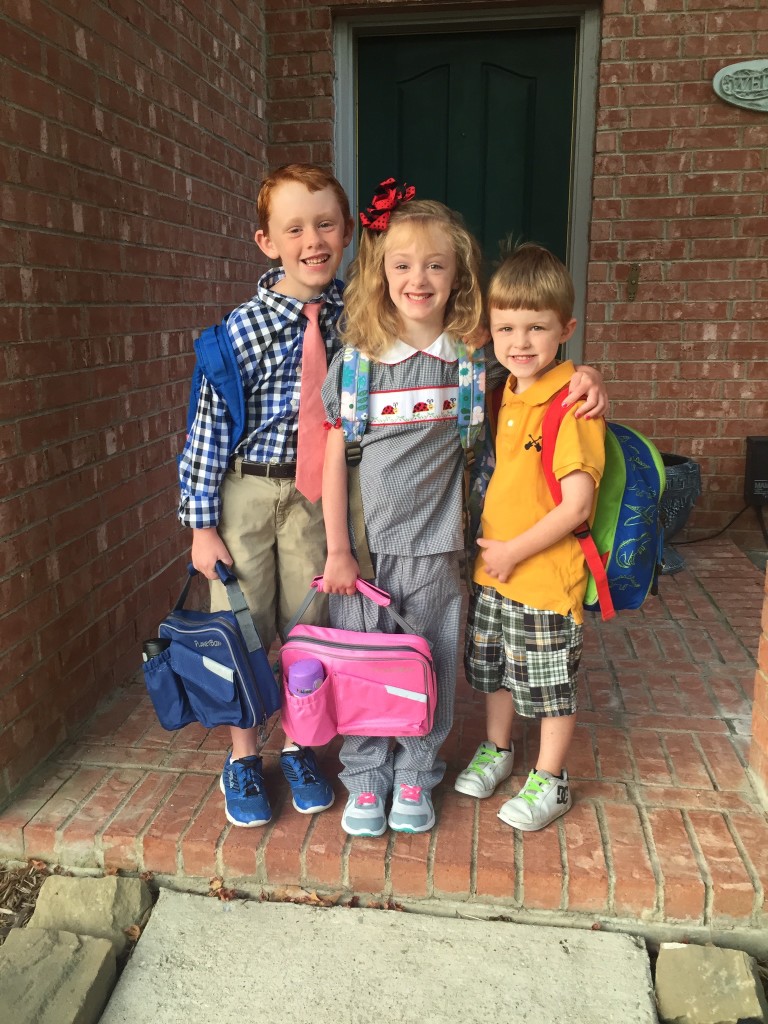 And can I keep giving on days when I feel like I'm missing out on life, on learning and on joy of parenting these four.  Because, truth be told, those are real days that I have.  Can I help these four, who've had their lives turned upside down, grow and understand and develop their own hope and joy and love?  Will I be willing to give up what needs to be shared?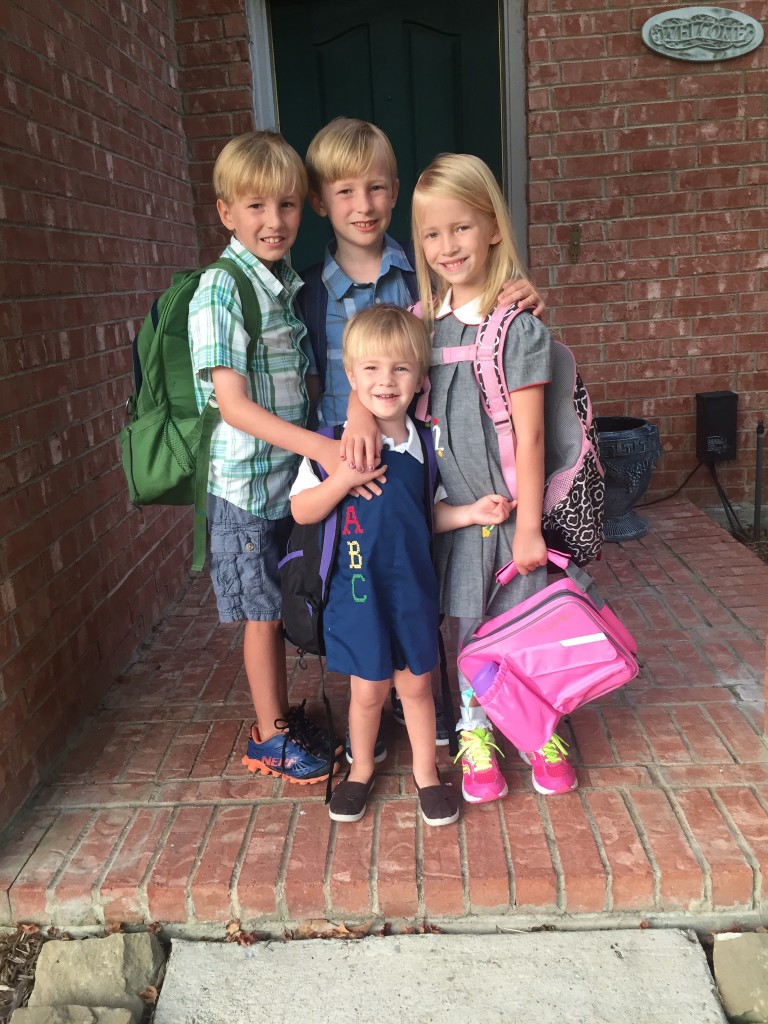 Maybe 7 is too many for that?
But SEVEN is what I have.  For now.  And while 7 is too many for things like fitting in the same car, eating quietly in a restaurant, and getting out the door on time.  Maybe there are some things for which 7 is just right.
Like raising your average!
This week I decided to start keeping track of our behavior days at school in team percentages.
7 kids * 5 days = 35 possible awesome days.
And one not so great day (including hitting a friend and screaming at a teacher-, but degree of not-so-greatness isn't important) subtracted from our 35 possible days, only brings our collective average down to 97%.  Thats not just passing, thats a high A.  Suddenly, "that day sucked" becomes "GO TEAM!"  And for that, seven is not too many.
I love this visual.  In this sea of hands, it takes some study to even identify the one finger representing the one day that one kid was…um…out of sorts.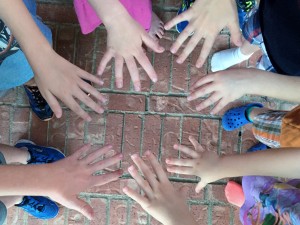 Which got me to thinking.  Maybe there are more.  More opportunities for using our seven-ness to great benefit and shift my perspective on how many is too many.  Maybe sometimes seven is not too many.  In the spirit of #huntingformiracles, I'm making a list.
Seven is NOT too many for…
Gathering a crowd to help celebrate long-awaited birthday presents.  
Or toast graduation from kindergarten.

Seven is not too many for helping you master the art of two wheels
or having a crowd cheer for you when you make your first full lap around the culdesac.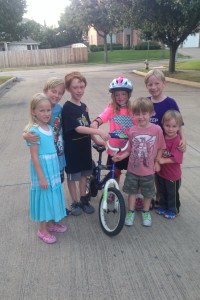 (in the video be sure to note how important a large team was: each other child is standing next to something CB had previously crashed into to remind her to turn and not repeat.  a hilarious sight, i assure you.)
Seven is not too many for…
having teams for kickball

or enough to play board games.

Seven is not too many for tough jobs like…
Raking leaves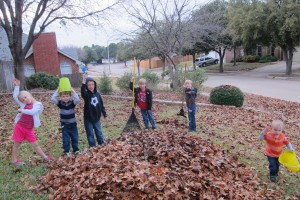 or building a snowman.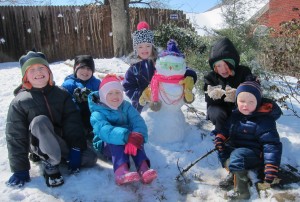 or creating the perfect birthday pyramid.
Seven is not too many for…
acting out a nativity scene (complete with a gift of shoulder pads for the King)


or having enough to dress like (almost) all of the characters from Peter Pan.

And apparently 7 is not too many for generating enough sympathy to be handed $10 in the grocery store.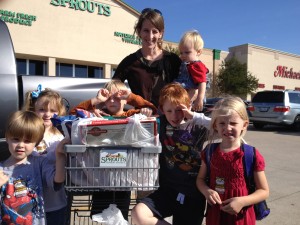 And, for sure, seven is just the right number to leave me with no other option than to throw up my hands and say "give me strength" and fully expect a strength that overcomes.
In choosing how to write the narrative in my heart of this season with seven kids, it does a world of good to make lists of pros (and leave the cons column blank for a minute or two).  When I do the math right, I dare to dream. Maybe we won't just survive another school year.  I have a feeling we will learn and grow and change and become and THRIVE.
Maybe, for a season, seven is NOT too many.
With more than 1,250 possible school days available for success,
I like our Team odds.
(but please don't ask me how we do it)
ABL