I don't know if you'd call it a mid-life crisis.  I'm not sure it could be when it's always stirred within me. Sometimes it stirs like an insatiable fire.  But most of the time, it's just an itch.  Especially an itch in comparison to the raging absurdness I've watched my world traveling brothers take on.
It is but one word.
Adventure.
It's kind of a hard itch for a type-A planner to quite know how to deal with.  Which is why quenching my desire rarely results in a spontaneous adventure. Usually, it's more like an overly-researched slight push of the limits, an exploration of new things with a well marked map in hand.
And thus was born our 14th anniversary celebration.  We'd already be in Aspen.  With grandparents (read:babysitters). Bound to be some hiking.  So the research began.  By all internet accounts the best hike in all of Aspen was resoundingly "take a hike to maroon lake to see The Maroon Bells".  Awesome.  We will go there.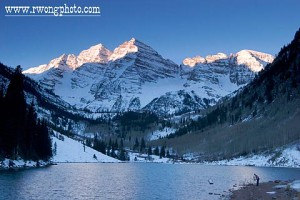 But then a bit more research.  Turns out it is the best hike in Aspen…in the summer.  In the winter, the road to the trailhead is closed. And covered in snow.  Which turns a 5-6 mile hike into a 12-15 mile cross country ski or snowshoe.  Still possible- obviously- since there were gorgeous pictures to tempt you along.  But as much as RRL absolutely LUH-UH-UHVES my hare-brained schemes, I was fairly certain he'd draw the line at 15 miles of snowshoes.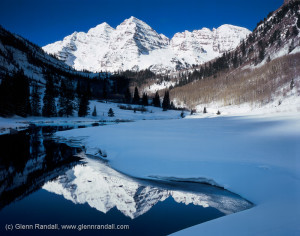 OR…
There was another option. As suggested by a park ranger I talked to.  Bikes.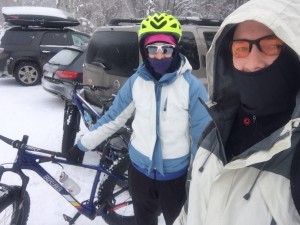 I actually found precisely zero people online that could tell me about their experience of snow biking to Maroon Lake to see The Bells in December.  But see, I tend to kinda pick a goal and barrel forward.  So, I started calling bike shops.  Sure enough, they had the equipment and were CERTAIN it was an attainable goal.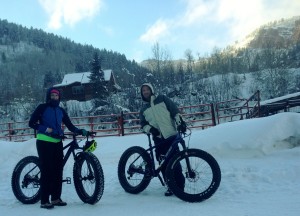 Insert note to self:  Self, if you want to know if something you've never done will be attainable for you…don't ask the people who do it for a living.  At least not when it comes to biking 7+ miles with a 1000ft incline, starting approx 8000 miles above your hometown elevation. You will ABSOLUTELY disagree with their conclusion.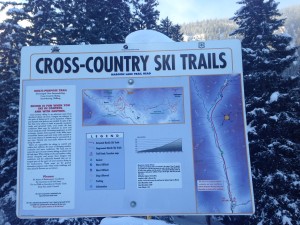 We didn't bike much that day, but we did invent a new sport called "uphill bike pushing".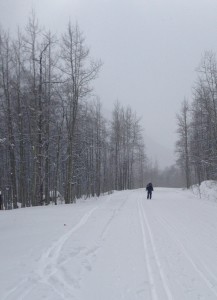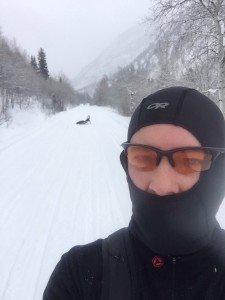 We didn't quite make it to our destination, but we saw some beautiful things.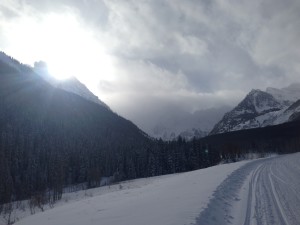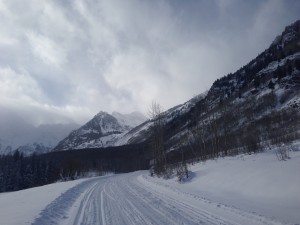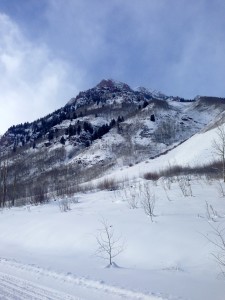 We didn't quite see eye to eye when we had to make the decision to turn back, but we always stayed together.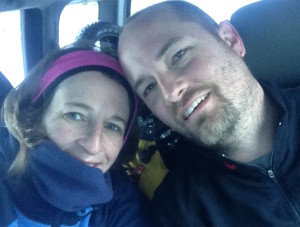 In the end I think it was one of our best anniversary dates.  Definitely memorable.   But most of all, it was together.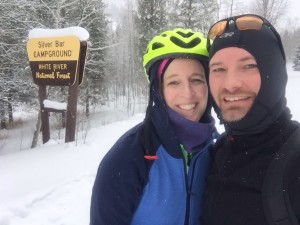 Happy Anniversary, RRL.  I'm full of hope as we face another year of marriage.  I'm thankful for the times we've hiked some of life's toughest mountains.  And for the times even the best research couldn't have prepared us for what we'd face together.  And slowly I'm learning to even be thankful for the times we've had to go back down the way we came, sometimes short of the goals we have set.  May we find rest there, at the bottom, until we are ready to turn, dream anew, and set out again.  Together.
 You, my love, are my very greatest adventure.
ABL